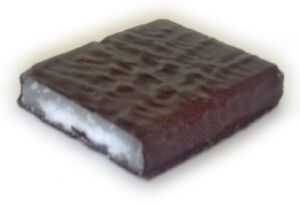 Kendal mint cake is a minty confectionary type of cake/bar with peppermint. Kendal Mint Cake was first developed in 1869 by Joseph Wiper, who began producing it in his small Kendal factory. It is thought that the discovery was a mistake, and that Wiper was in fact attempting to make clear "glacier" mints.[1] Wiper founded Wiper's Mint Cake.
Ad blocker interference detected!
Wikia is a free-to-use site that makes money from advertising. We have a modified experience for viewers using ad blockers

Wikia is not accessible if you've made further modifications. Remove the custom ad blocker rule(s) and the page will load as expected.